Probably a lot of Vietnam visitors would confirm the northern part of the country is a place to spend time without sparing it. I fully agree with that, so it was already natural that we have spent even half of our travel time in the north of Vietnam. I am very happy about it, and even more, so that we did not skip Ha Giang, which is less visited by tourists, but from where we went on a scooter for a 4-day ride full of amazing views and adventures. I'll share our route and some tips and if you have the time and desire and at least some experience to drive a scooter, I am sure that this route will not leave you indifferent either.
We arrived at Ha Giang from Hanoi by day VIP bus and around 2 p.m. we've already been at the hotel (this bus has fewer seats and should arrive faster, but actually moves at a similar speed as the big ones, only to make it more comfortable). That day we had to arrange a scooter rental and our route. As a matter of fact, I had already immersed the route on the Internet, as well several of our acquaintances had also traveled here, so we had some ideas. Various routes from 3 to 6 and more days can be found online, but the most popular and most optimal are 4 days / 3 nights. Although scooters were also rented near our hotel, we found a QT Motorbikes rental point on the Internet which had very good reviews. I called them and was pleasantly surprised when they offered to come to the hotel and pick us up by car (the hotel was about 2 km away from them, there were not many Grab drivers at the time) and I was even happier when they said that the scooter would be given free for today. Since we can both drive, we took separate semi-automatic 125 cc scooters (and it was a very good decision in terms of comfort and safety). The guys at QT Motorbikes advised us on driving and even made a 4-day itinerary, which was extremely convenient later on (we were able to make our day plans, knew what to see, as well as campuses for lodging and even recommended hotels or hostels). On the same day, after taming the scooters, we drove around the city, picked up only the items needed for those 4 days, and agreed that all the rest would be taken care by the hotel (this is normal practice in Southeast Asia and it is not even necessary to stay in that hotel again after the trip).
Our itinerary was like this:
Day 1 – Ha Giang – Du Gia
Day 2 – Du Gia – Dong Van
Day 3 – Dong Ban – Tam Son
Day 4 – Tam Son – Ha Giang
Here is every day of our trip in detail:
1st Day – Ha Giang – Du Gia
Distance traveled ~ 115 km
Driving time ~ 4 hours.
Impressed by – Bac Sum Serpentines, Heaven's Gate (Quan Ba), walk to Lung Khuy Cave.
We got up, had breakfast, attached a bag with four-day items to the scooter, refueled, and left the town at about 9:30 a.m. We didn't know that at the time, but we had to leave earlier, and we did that in the upcoming days. Although the first object was not to be seen yet, the landscapes began to fascinate as soon as we left the town. After less than an hour's drive, we started to go up to the mountain serpentines and more and more beautiful panorama (Bac Sum serpentines) opened up after each turn. And how to resist stopping and taking photos, regardless of the fact that no photo will convey the greatness of the views! Next, we had planned to stop for a coffee at Quan Ba ​​Heaven Gate or better known as just the Gates of Heaven. You will not pass this place as you would spot gathering travelers who either drink coffee, take photos or just admire yet another different panorama. After some great views and a cup of our favorite Vietnamese coffee, we headed south to the nearby town of Tam Son for lunch (by the way, it was also marked as a lunch place by QT Motorbikes and it was very convenient because we didn't have to worry whether there will be any towns with cafes). The town is small, but on its main street there is a number of cafes next to each other, and the owners invite visitors to stop by. After lunch and rest, we headed towards another object, Lung Khuy Cave. These caves were marked on our route on the day of return, but over lunch, we met and talked to a QT Motorbikes guy who assured us we have enough time for it, so we decided to go because we were already on the way (as it turned out later, it would be better off to leave it or the end, though). I will admit that once I visited one of the caves (and there were more that one there), I could skip the other caves in the future. And while the cave itself didn't impress me personally (because I'm not a cave lover), the road to it on foot from the local village was great. After the cave, the town of Du Gia planned, where we had to spend the night, but after crossing the river, the navigation led us to the unpaved road and it got us suspicious. Even more so, when it turned out there are no other travelers around, even though we had always met someone on the road before. After a little doubt, check with the locals as to whether it was a really good direction, we decided to go further. It turns out that the direction was good, but the road was not the best, because as I later "checked" with other locals using Google translate, it is rather poor 3 km. Poor was due to the clayey ground, wet in places, so the scooters had to be either pushed in some way or driven very carefully because they were difficult to control (not to mention dirt spreading all over). Finally, passing a seemingly never-ending stretch, we realized that time was running out, and there was still a way to Du Gia so had to move on straight away. The plan of the first day remained unimplemented, because at 5 p.m. when it was practically completely dark, we decided to look for accommodation in the nearest village and stop driving, it was another 15-20 km. to the point ride in serpentines and at night. I don't even know what that village was called, but the magical Google maps showed us few Homestays nearby out of which we found one with quite good reviews and took it there. We were very happy when we found smiling hosts, free room and dinner.
Day 2 – somewhere from the village of Làng Khác to Dong Van
Distance traveled ~ 75 km
Driving time ~ 3 hours.
Impressed by – huge rice terraces on the mountain slopes in the section between Mau Due and Meo Vac, Ma Pi Leng observation deck.
After the last day's "lesson", he got up early and did not regret it, on the second day we were already on the road at about 8:30. We knew that the stretch of the day was supposed to be one of the most beautiful, so we were very happy with the clear sky and the sun that accompanied us all day. Tip for driving this day on a route like us (i.e. counterclockwise, and many go clockwise), the Ma Pi Leng observation deck should be up to 3 p.m., as the setting sun begins to hide behind the mountains and because of their cast shadow on the river, the view is no longer so impressive.
Today's route was going by the plan and we were very happy about that. Truth be told, we adjusted the plan after the first day and decided to skip that part from Du Gia to our village and not return back. As far as I have read on the internet, the section leading to the mountains towards Du Gia is also extremely beautiful, and there is a waterfall near the town where you can even take a swim if traveling during the warmer seasons. However, after the first day, we realized that time in the mountains was running even faster than we would like it to, so we chose slightly fewer objects, but a quieter ride and enjoy the views without rushing it.
We reached the town of Dong Van during the daylight, so we could see it and relax and have dinner.
3 day – Dong Van – Tam Son
Distance traveled ~ 100 km
Driving time ~ 4 hours.
Impressed by – the hospitality of the owner of the roadside cafe.
On the route of the day, we had many places planned, which involved going back the same way, so we knew we had a lot of riding before us. Today we were determined to see as much as possible, so we got up even earlier and we were on the road for a few minutes after 8 p.m. After checking the weather forecasts, Aurimas insisted on buying raincoats with rain protection pants. I was an optimist in my mind (because it showed rain yesterday, and the sun was shining), but I still agreed, because there is nothing to lose. The first object that was waiting for us was exactly the one that made us have to drive the same way back and forth. It was an observation tower at the northernmost point of Vietnam, overlooking China. A trip to and from it, climbing up to the tower itself, which requires a pass through the local market, added an extra 2 hours to today's route. In the evening I was reading about this place and I found reviews in multiple sources that the place itself is not something impressive, many even miss it. After visiting there, I can tell the feedback that we didn't see anything special in terms of views. Maybe it's interesting to know after a trip that you visited the northernmost point of the country, which saw another state, but if you want to fly less and enjoy the rest of the day, I would sacrifice the northernmost point without a regret.
Only after returning from the observation tower, we did feel the first drops of rain. While I was still an optimist and just wanted to go on, the sixth feeling inside supported Aurimas's desire to dress in the rain clothes he had bought before. After about 10 minutes of driving, I could not be happier with that, as the rain became faster and stronger. We knew that the distance of this day would belong, all we could do just move forward without much hesitation. After driving for more than a good hour in the rain, we stopped at a cafe where we decided to have lunch and rest. Now I couldn't even name where she was, but there we were greeted by some of the most helpful Vietnamese I had met on the trip. Wet and cold on the road, we were not alone as there were more frozen guys so the owner even set up a bonfire to warm up in the middle of an outdoor cafe and lent me a warm jacket (by the way the other guys wore flip-flops and were with shorts, which sure was not great for them…)!
Although at one time the rain seemed to be calming down, the grey clouds did not go anywhere so as we moved on, the situation did not improve much. We drove for another hour and approached Yen Minh town, where we were planned to have lunch (which was already around 3 p.m.). I felt really tired and wet enough – the disposable pants didn't withstand a break, and the jacket and sweater were wet from the cuffs to the elbows because the raincoat sleeves were too short… In Yen Minh City, I categorically "suggested" to call it a day, to warm up and rest because tomorrow we definitely had to go back to the starting point and catch the night bus going to Cat Ba island. We found a place for the night on Agoda, where we were very pleased when the host offered to join him for a shared dinner, along with other travelers… And the rain only stopped that day long after sunset.
4 Day – Yen Minh – Ha Giang
Distance traveled ~ 105 km
Driving time ~ 3.5 hours.
Impressed by – how the weather in the mountains is radically changing.
After yesterday's experience with rain, we even planned to make two pairs of disposable clothes from the rain with all kinds of extensions of pants and sleeves so we won't really get wet today. And yesterday I bought such unreal gloves at the Vietnamese roadside "garage" – made of rubber, they wear up to the elbows and are warm but still comfortable to drive! Weather forecast still showed rain and we trusted in it this time and we were ready for the road again. And although in the morning we could see the beautiful mountains drowned in the mist through the windows of the hotel, when we started our journey, they hid under thick rain clouds again.
This day was only for the return and we "fulfilled" the plan in record time – after three hours of driving in the serpentines constantly pouring rain, with a short stop at the Gates of Heaven to relax a bit (route 4 and had to repeat from the Gates of Heaven), we were already around noon in Ha Giang. Wet again wherever possible, tired of the constant drops of rain on the face.
When we returned to Ha Giang quite early, we had time to both relax and take a shower and have a snack before the night trip (although we didn't have a hotel booked for the night, for a couple of euros we were allowed to use the shower in the same chain hotel as a scooter rental). While waiting for the night bus, we discussed the excitement of a 4-day trip. It's a little unfortunate that we didn't manage to see everything we had planned because we can only imagine how beautiful it should be. On the other hand, we both agreed that despite the changing weather, the trip was worth every minute and every inconvenience and that the most beautiful stretches of it were still on sunny days, all that remains is to thank the "gods of travel".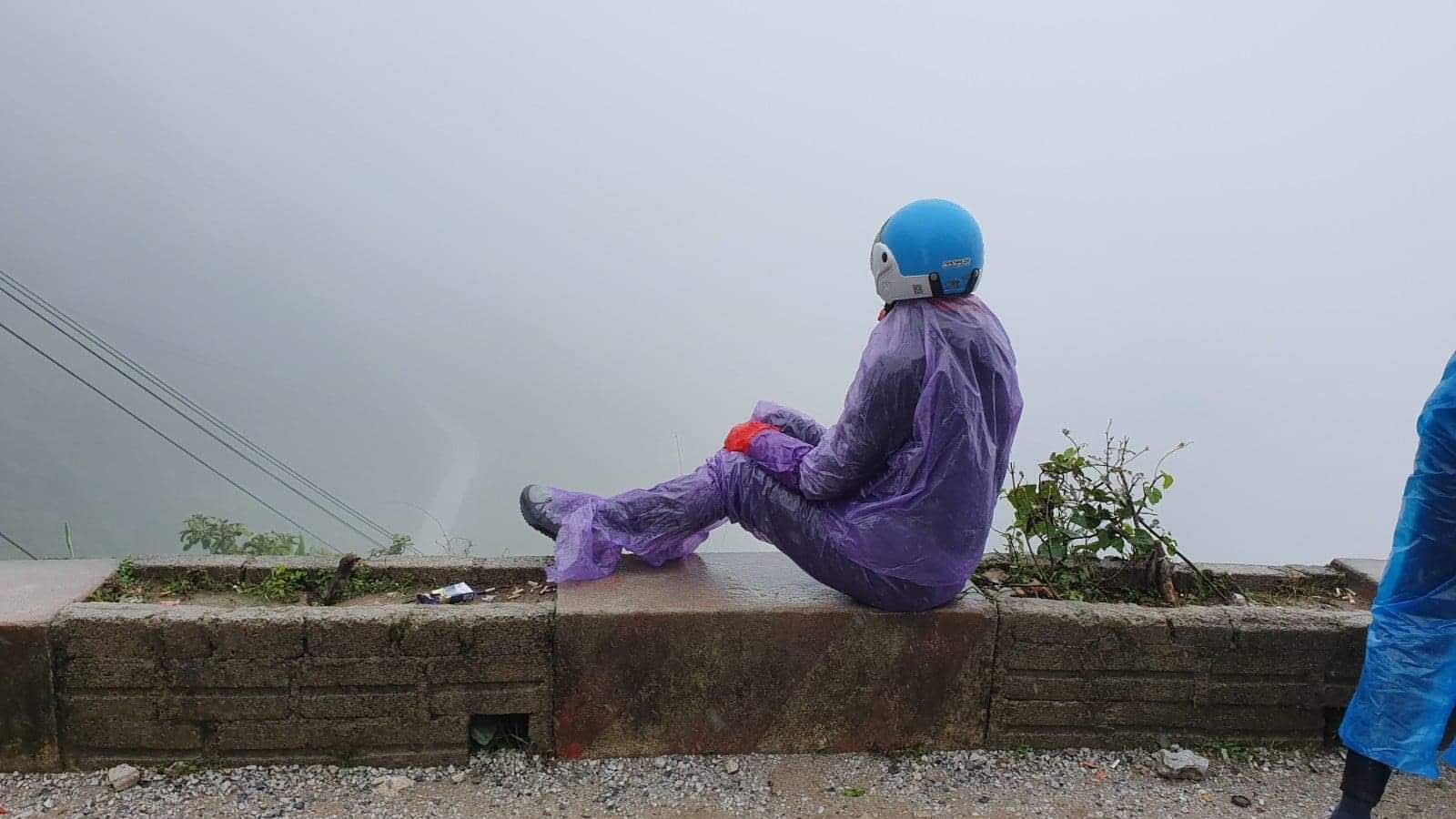 Our discoveries and tips
Rent semi-automatic scooters as they will be more powerful in the mountains and much safer when braking downhill;
If you can ride separate scooters as it will be both safer and less tiring;
When preparing for a trip, consult your scooter rental for the route. Usually, everyone has maps of that loop and will advise where better to drive, where to stay overnight, as well as the maps will mark the towns where you can refuel, all of which greatly helps travel planning;
If you only have time, choose a trip of at least 4 days, traveling shorter is practically pointless because you will drive too much and enjoy too little;
The weather in the mountains is changing, so be sure to check the weather forecasts, keep them updated and have several sets of clothes and rain protection (due to the lack of moisture and central heating, clothes may not dry overnight). Don't spare money on clothes from the rain, because those cheaper ones tear right away, so you'll end up regretting;
It gets dark in the mountains quite early (as soon as 5 p.m), so don't sleep in and get up and be on the road as early as possible (preferably as early as 8 a.m.);
Do not speed on the road to avoid sudden stopping if a truck, a herd of cows, a pit on the road or local children playing suddenly appear behind the turn;
Predict that there may be poor stretches of a road.